Recently Listed Vender Items
FleaVenders.com Recently listed Vender items.
create a new listing and see your item show up here.
Find bargains in our recently listed items, here is where you may catch the item you maybe looking for to add to your collection.
Below is our Vender business card, if you post listings here you can use these cards to pass out to potential and current customers. So when you are at a flea market you can let them know that you are also an online Vender at FleaVenders.com Self promotion is the best promotional method because of its first hand and face to face contact. Do you make items that you sell ? Get these cards for your self promotional efforts.
FleaVenders.com Promotional Vender Business Card Pack Of Chubby Business Cards
When you purchase these cards you can put your vender name on the front. You can also put your business and contact information on the back of the card when you customize it.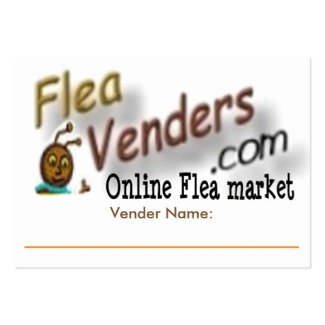 FleaVenders.com Promotional Venders Business Card
by
Photoartproducts
Create a set of
personal calling cards
from Zazzle.
---
Our recently listed page displays items from Venders that have just been posted. Check this page often because listings will change frequently.
Don't skip a listing you may loose out on a good bargain on an item, or a once in a lifetime purchase. Recent listings move fast.
When you post a listing it will automatically be posted here. The top listing is the most recent one. Listings update after a listing is created. All listings even if they are Featured, Front Page Enhanced, or Free will show up here. The time a listing spends on this page is determined only by how often listings are created.
Please remember to share and like listings on Facebook, it will post in your timeline or you can post the listing to someone else's page. You can even post these recently listed bargains to a page that you manage.